Hello from Uyless.  As always, please scroll down this page to find the links that can be used to access several hundred articles, reports, and essays.  For better or worse, I have written this material.  All material is free and is unaccompanied with any advertisements.
Please do not send email to this website. At this website, I receive hundreds of irrelevant advertisements and such that I simply do not (cannot) monitor all of them. Send your email  to UBlack7510@aol.com.
 I have re-constructed and re-posted the essays "Cruising the Danube River" which records a cruise through the southern part of this river: The first report offers observations about different cultures: Getting Started on the Danube.  The second report explores Bucharest Romania. The third report is on Bulgaria. The fourth is  a focus on the Danube River: Iron Gate. Next, a visit to the city of Belgrade Serbia; then a related report the Serbian countryside. Next is Croatia, followed by the Hungarian plains. Then a trip to Budapest, followed by Prague. Finally, a Danube River wrap up on this cruise.
Be careful when dealing with Internet help desks. They may try to sell you something you do not need. This link provides some guidance. Trump scolds NATO countries for not living up to their commitments.  The Los Angeles city government is getting rid of Columbus Day for Indigenous Peoples Day (I am not joking). Tread carefully, America. Charlottesville could be a portent for the future.
If you wish someone else to see this site, send them this link: U's Blog. For a look at my Facebook site, go to Facebook, and key in "Uyless Black Books."  For some information on my professional work, go to Background Check.  As always, I hope to hear from you at UylessBlack@gmail.com, or at Ublack7510@aol.com.
Here is a link to an encrypted file. I have posted it for those who wish to test the validity of being able to encrypt ordinary correspondence; in this case,  Microsoft's WORD: Decryption Test.
Organization of this blog:
Links to each article/essay report in each series.
Links to YouTube videos on some of my books.
Links to Facebook and other reader/viewer comments and quotes.
For the next few months my postings to you will take place on a time-to-time basis. I am working on a number of books and find the self-imposed weekly deadline of a posting is taking away from my research and writing.  However, this very writing will lead to some blogs, so don't give up on me! I will send you a notice when I have completed a blog posting.
Most recent postings: I have reconstructed the first 22 series on this site that were deleted by my service provider, with the Traveling America series as number 23. To access them, scroll down this page, and click on the links for series 1 – 23 (with 23 a work in progress).  Some of the later series also contain active files, but they are not yet complete.  Sorry for this long delay. It is taking much time, as I have do a lot of formatting and administrative work, while I also perform my ongoing tasks of writing new material and playing the retirement couch potato game. 
The best way to reach me is through Ublack7510@aol.com. I hope to hear from you. 
Table of Contents: 
1.  Customs and Cultures in America
2.  Heard off the Street
3.  Gun Control Issues in America
4.  Religions: Opportunities and Conflicts
5. Privacy and Security in the Internet
6.  Music
7.  America's Capital
8.  Epilogues to The Nearly Perfect  Storm
9.  Presidential Places
10.  America's Cities
11.  America's Finances
12.  War Zones
13.  Warm Wars
14.  Immigration and Emigration
15.  Foreigners' Affairs
16.  Politics in America
17.  Sports and Games
18.  Sing Me a Song Title
19.  Slim's Wisdoms
20.  Confessions of a Modern Art Luddite
21.  Computers and Networks
22.  Food Effects and Drug Defects
23.  Traveling America
24.  Foreign Places
25.  Epilogues to 2084 and Beyond
26. Digital Societies
27. College Daze
28. The Environment
When Godaddy moved to the use of WordPress, over 300 essays were deleted from my  blog.  I am in the process of recovering them. The material associated with most of the series is complete! The others are being fixed. It is a long process. I thank you for your patience. 
For the newcomers, the material on this blog contains some of my writings, many done with the help of Your on the Street Reporter, who is seen here: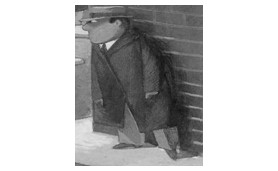 He's a clever sleuth who makes known a lot of heretofore unrevealed facts about life, politics, finance, sex; just about any subject. In spite of some of his less than happy reports, I hope he provides you with a few laughs. For now, please permit my only marketing effort on this blog. I hope you will go to Amazon.com and check out my recent books. They are also available as an ebooks on Kindle, Barnes and Noble, Nook,  and can be obtained in local bookstores. 
I have put together a series of short essays taken from the prefaces of some of my books: Creatures and Computers. They compare the communications skills of animals to communications networks. This piece also includes a discussion about hand-made knives. It's a bit unusual, and I hope you enjoy the read.
Other Links: Here are some links that might be of interest: To view the cover and comments on The Nearly Perfect Storm: An American Financial and Social Failure, click Storm. For The Light Side of Little Texas, click Light Side. For A Swimmer's Odyssey: From the Plains to the Pacific, click Swimmer.
I hope you enjoy some video clips about my recent books. They are on YouTube.  One is about my swimmer story, A Swimmer's Odyssey. Click on: http://youtu.be/NdCUKGoFa1g . Another is a trailer on The Light Side of Little Texas: http://www.youtube.com/watch?v=moTlKxrCR3w&list=FLTp1Q5GQ4Gq4jE5H-3EXX2A. Also, click on  http://youtu.be/1VKu5y-DqOs to see a clip on The Nearly Perfect Storm.
I also have a Facebook site up-and-running. Go to Facebook, and key-in Uyless Black Books. There you will find many quotes from my works and readers' comments.
Finally, for a more detailed look at the general information contained in Facebook, go to my website at UylessBlack.com. It also has ordering information for the books.
Thank you for your support of this blog and my Web sites. Thanks for supporting my writing efforts.   Uyless