BLOG.UYLESSBLACK.COM
Welcome to this blog site.  Click on any of the links below to obtain free downloads. If you wish someone else to see this site, send them this link: U's Blog. For a look at my Facebook site, go to Facebook, and key in "Uyless Black Books."  As always, I hope to hear from you at UylessBlack@gmail.com, or at Ublack7510@aol.com. For more information, take a look at the Web site at UylessBlack.com. 
Organization of this blog:
Weekly comments and links to new material, and table of contents and links to the series on the blog.
Here is a posting for the  Coeur d' Alene Press articles that I promised to keep up for the first half of 2015: Studies on Internet Performance. 
For the next few months, I will be writing a couple of books. They will preclude my posting a weekly blog, as each of these blogs take several hours to research, write, edit, and modify the blog to handle new pieces and new files. I will still be posting blogs and will let you know when there is a new one, but they won't come every week.  Don't give up on me! I enjoy these blogs and our dialogues, but I need to carve out some more time for these projects. 
March 26  posting: I am posting a piece that I hope both Christians and Muslims will take it in the spirit in which I wrote it. Its intent will become clear (again , I hope) as you proceed through the article: Click on Religious Brotherhood?  
Parts of this blog site are not yet-activated, and the ongoing text is a work in progress. Nonetheless,  I will continue to have at least one essay posted weekly either at this site or with my private mailing list, of which you may be a member. (If you are not, and wish to be, let me know at UylessBlack@gmail.com.)
For the newcomers, the material on this blog contains some of my writings, many done with the help of Your on the Street Reporter, who is seen here: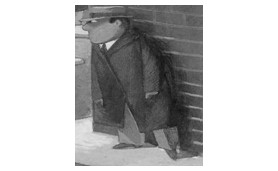 He's a clever sleuth who makes known a lot of heretofore unrevealed facts about life, politics, finance, sex; just about any subject. In spite of some of his less than happy reports, I hope he provides you with a few laughs. For now, please permit my only marketing effort on this blog. I hope you will go to Amazon.com and check out my recent books. They are also available as an ebooks on Kindle, Barnes and Noble, Nook,  and can be obtained in local bookstores. 
Series 1-8 are complete. The other series are in the process of recovery. Godaddy deleted over 300 of my links when it went to WordPress. So, I am in a very lengthy process of recovering. I thank you for your patience.
Table of Contents                                                                                                               1.  Customs and Cultures in America                                                                      2.  Heard off the Street                                                                                                   3.  Gun Control Issues in America                                                                           4.  Religions: Opportunities and Conflicts                                                 5.  Privacy and Security in the Internet                                                                 6.  Music                                                                                                                                     7.  America's Capital                                                                                                           8.  Epilogues to The Nearly Perfect  Storm                                                           9.  Presidential Places                                                                                                   10.  America's Cities                                                                                                           11.  America's Finances                                                                                                   12.  War Zones                                                                                                                       13.  The Warm War                                                                                                             14.  Immigration and Emigration                                                                               15.  Foreigners' Affairs                                                                                                     16.  Politics in America                                                                                                     17.  Sports and Games                                                                                                     18.  Sing Me a Song Title                                                                                                 19.  Slim's Wisdoms                                                                                                         20.  Confessions of a Modern Art Luddite                                                           21.  Computers and Networks                                                                                   22.  Food Effects and Drug Defects                                                                         23.  Traveling America                                                                                                     24.  Foreign Places                                                                                                                                                                                                           
1.  Customs and Cultures in America contains essays and reports on subjects such as the Roswell Man legend/myth, Bob Dylan and his legion of fans, Michael Vick and his legend of dogs, America's beauty industry, and many other topics. 2. Heard off the Streets is a part of this series.  3. Gun Control Issues in America is also part of this series.
4. Religions: Opportunities and Conflicts explores how some factions are using their religion for purposes of suppression and aggression.
5. Privacy and Security is a series on the subject with emphasis on these issues in the Internet.  A complimentary series is                 Computers and Networks, described below.
6. Music contains reports on concerts highlighting  rock, country, and classical performers, as well as plays and movies created with the help of musical scores.
7. America's Capital series takes a look at Washington DC's wonder world. Some of the material reflects the time I lived in the area a few years ago, and thus, is a walk through memory lane. However, most  of the essays are still current, as (for example) the National Archives has not changed. I've kept the essays intact (sans updates) because they reflect the times in which they were written.
8. Epilogues to The Nearly Perfect Storm: An American Social and Financial Failure  are follow-up essays to my book of the same title, and deal with the current dangerous financial, political, social situation in America. Recent legislation has both helped and made matters worse.
9. Presidential Places visits the homes, museums, libraries, and graves of America's  former presidents. I have some ten of so of these essays to post and have simply overlooked them—with only one entry. I'll get busy to get them online.
10. America's Cities highlights the attractions and sore sides of several USA cities.
11. America's Finances contains essays and reports on America's financial and economic situation. It is a compliment to  Epilogues to The Nearly Perfect Storm, described above.  
12. War Zones includes thoughts about America's past, present, and possible future wars. As part of this series, 13. The Warm War offers ideas about America's post Cold War military readiness and the nation's perpetual preparation for the next war.
14. Immigration and Emigration contains reports about America's immigration practices and problems. The essays deal with cultural, language, financial, and racial issues.
15. Foreigners' Affairs deals with the relationships of America with other countries.
16. Politics in America provides reports on America's politics and political figures. Several essays reflect my listening to speeches at the National Press Club, and are provided on this blog for historical interest and a primary source reference.
17. Sports and Games covers several well-known sports events I was fortunate enough to attend, as well as essays about the beauty and pleasure  of having sports in our lives.
18. Sing Me a Song Title are one or two act plays, rendered in country and western song titles,  and track the love affair of two C&W music groupies and their music. To help these two along in their travels down life's highways,  19. Slim's Wisdoms has one of the party share some of his philosophies…such as how to collect unemployment checks while in jail, and other laudable goals. 
20. Confessions of a Modern Art Luddite examines modern art,  especially abstract expressionism. The essays focus on a simple question that has been asked again and again by art critics, art collectors, and art viewers: What is art? I attempt an answer, one that art critics might not appreciate, but art viewers might like.
21. Computers and Networks highlight software, data, Big Data,  the Internet, the profession  of software programming, and the astounding capabilities of modern hardware and software.
22. Food Effects and Drug Defects covers a broad set of topics. It is organized into Food follies! How to deal with increasing risks of eating. Side effects? How are we to know the consequences of ingesting our modern medicines? And a third part:  The Eating and Drinking series takes a lighter look at our taking in food, drink, and drugs.   
23. Traveling America represents my impressioA=ns gathered from seven decades  of exploring the United States. Thus, some of the older essays provide recent history anecdotes about America and Americana.  Some of the narrative is general travelogue, but not much. You can easily read National Geographic, Sunset, et al,  to gain this information.  I hope I provide entertaining reading as well as insights not previously published about this beautiful and bountiful land.  
24. Foreign Places is presented in the same manner as the               Traveling America essays. They represent impressions gathered from over seventy years of exploring parts of the world. My goal for this series is also the same as my goal for the essays on America:  I hope I provide entertaining reading as well as insights not previously published about this beautiful and bountiful earth.  
That's it for the introduction to this blog. The links below allow you to pick and choose…as well as to not pick nor choose.  I hope you option for the former, read some of the pieces, and send me your thoughts. 
1. Customs and Cultures in America
 Clipping: The increasing use of video and sound bytes in movies and television. ~ Political correctness on a college campus: Suppressing Free Speech. ~ Floral Infanticide: A failed attempt at gardening, one many readers will understand. ~ A Taxing Tax Refund: A short tale of woe about taxes and tax returns, one too many citizens experience.  ~ Age Discrimination: A case study of a competent woman who is denied employment because of her age. ~ Searching for Needles: Accounting for the loss of loved ones and grief. Should a line be drawn? ~  Meeting Richard Simmons, the fitness instructor, in Hollywood. ~ My confession about addictions to curio stores and T Shirts: T Shirts Anonymous. ~   Book Signings explains why a former book signer no longer attends book signings. ~ Take a walk down memory lane with Memories Are Made of This. ~ Life is a Dog Fight: Background and updates on Michael Vick and his being in the dog house. ~  More people are undergoing plastic surgery to win beauty contests and avoid The Ugly Factor. ~ Visiting Lincoln County, Fort Sumner, and other Billy the Kid venues. ~ The Roswell Man: Fantasy? The Roswell Man also examines religious and scientific canons. ~ The arrogance of The Virginia Cavaliers contributed to the founding of America. ~ Touring a Knife and Gun Show in Las Vegas. ~ Looking for Elvis (I): Looking for Elvis in Memphis and Nashville. ~ Looking for Elvis (II): Looking for Elvis in Las Vegas. ~ A trip back to the old-time movies and Drugstore Cowboys. ~ Our addiction to Collecting Stuff, leading to the booming storage locker industry. ~ Racism in Idaho: A report on the Aryan Nations and the ten-year anniversary of their demise. ~ A Class Act: A trip back in time to a High School Class Reunion. ~ An Unclass Act: A once-respected actor, Charlie Sheen, seems to self-destruct. ~ Late Night Talk Shows: A reporter visits the sets of Jay and Jimmy. ~ Revisiting America's cowboy culture at a National Cowboy Symposium and Celebration. ~ One of my friends is helping our youth to excel: Doing Well at Doing Good. ~ A tribute to Robin Williams:  Mork Meets Earthlings (I). ~  A walk back in time to the generations who settled parts of America's southwest: Generations.
2. Heard off the Street is part of the Customs and Cultures in America series. It describes aspects of our behavior that is, charitably speaking, strange. For starters (and these essays are added on an adhoc basis): Heard off the Street (I-V). Here are some more: Heard off the Street VI. More: Heard off the Street (IX),  Heard off the Street (X).  Heard off the Street (XI), Heard off the Street (VII). 
3. Gun Control Issues in America: Also part of the Customs and Cultures in America series:  The futility of Gun Control in America. ~  Guns 'n Lilies: Is shooting an armed robber politically correct? ~ Are more Tucson Shootings in store for the future? ~ This Pistol Packing Mama has guns under control. ~ Banning dangerous weapons  because of Banning Dangerous Weapons. 
 4. Religions: Opportunities and Conflicts
Politicians and other public figures skirt around the question of: Is the Western world engaged in A Religious War? ~ Not all Buddhists are peaceful. Click on Peaceful Buddhists. ~ A young boy tries to grasp religious concepts in Religious Confusions. ~ Religious fanatics do serious damage in Mayhem in Lea County. (Label warning: satire). ~ Religious fanatics do  serious damage in  Killings and Such. (Label warning: non-satire). ~ In the Middle East, where unbelievers are subject to death unless they convert to Islam: Human Devolution.
5. Privacy and Security in the Internet
Looking into users' Wi-Fi (private?) traffic with the  Googles Eyes.  ~ The once private Social Security Number is public. ~ Why is the idea of private email different from private postal mail? Have You Been Reading My Mail? ~  Who are the Privacy Watchdogs watching? ~ A comparison of the delivery services of the postal service and the Internet: Postal Service and the Internet. ~ A look at Metadata and what it means to an Internet user. ~ What is Big Data? It is not what the words convey. ~ Furthermore, what is The Cloud?  ~ Where to Draw the Line on privacy vs. security? Should there be such a line? ~ Cost vs. benefits of NSA bulk data snooping: Is Metadata Spying Worth the Cost? ~ A study on Surveillance Methods and an analysis of their effectiveness. ~ A disturbing story about intra-governmental snooping: Watch Dogs being Watched.  ~ A summary of a Presidential commission on Recommendations of Spying and Security.  ~ It's a Coin Toss as to who reads our supposedly private emails.
6. Music
San Antonio Rose: Antonio Rose and Moonlight Sonata, a short story about beautiful music. ~ Odes to Bob Dylan: The controversy surrounding Bob Dylan possibly using others' works. ~ A salute to a jazz genius: Dave Brubeck.  Second, a salute to two C&W geniuses: Kris Kristofferson and Merle Haggard.   ~ Two rock concerts: Rocking on the River and Rocking at the Roxy. ~ An accordion festival. Don't laugh; click on Accordionly Fine.   ~ Christmas memories, A Christmas Cantata. Past times when public schools had religious music. ~ Caesar's Palace in Las Vegas: Rod Stewart. It's a kick. So is Rod Stewart. I hope you enjoy it.
+++  Links Under Repair +++
The links below  were deleted when Godaddy changed its web software. I'm working on getting all up-and-running. Some are active, most are not. If they are active, the essay/report will be downloaded to you. If not, a message will be displayed that they are not yet available. 
7. America's Capital 
The Washington Monument, ~ East Potomac Park, ~ a July 4th parade, ~  the Supreme Court, ~  the National Cathedral and the Islamic Center, ~  the Library of Congress, the National Archives, Abe Lincoln haunts such as Ford Theater, National Mall demonstrations, Museums (I) , Smithsonian's Butterfly Garden, a party at the home of  the Indian Ambassador, and a look at Washington's War Memorials and our nation's Memorial Day.  Finally, a bit of nostalgia, as I revisit DC  and recall many fond times there: A DC Revisit.
8. Epilogues to A Nearly Perfect Storm 
For a look at welfare, click on Deadbeats on the Dole. ~  For another look at welfare, click on Deadbeat States.     The credit rating agencies are being sued: click on  Epilogue III.     Who gets Uncle Sam's money? Epilogue IV of financial meltdown.      Manipulating an index (unknown to you) that affects your pocketbook: LIBOR and Rubbish.    Non-criminals engaging in criminal activity: Freedom from Responsibility.      Alan Greenspan blames the Great Recession on animal spirits: The Oracle of Illusion.      Another nail in the coffin for the problems of  Gerrymandering and Deadlock and its effect on Congress.     A controversial topic from Michael Lewis: Gaming the Investor Frequently.  ~ Thomas Piketty's new book, Capital in the Twenty-First Century, has created considerable comment and controversy: Capitalism and Inequality.The insurance company, AIG, is suing the U.S. federal government for bailing out: The Gall of it All.
9. Presidential Places
The George W Bush Library and Museum in Dallas.
10. America's Cities
San Francisco, Palm Springs, New Orleans,  Santa Fe, Fort Worth, Native American Cities.
11. America's Finances
A National Marshall Plan? Should America declare a National Economic emergency? ~ Is America on the Financial Skids? Is America's financial culture healthy? ~ Privatizing Profits. Socializing Losses: Seven observations on American capitalism. ~ Social Security, its problems and proposed solutions. ~ Executive Pay Compensation and why the general public is outraged. ~ Too Big to Fail, both Uncle Sam and companies. ~ Read Health Care Plans to read about distorted explanaitons of the bill that lead to skepticism. ~ Investment Banks and Congressional Hearings: A tug of war of vested interests.
12. War Zones
The ongoing problems with Palestine and Israel: Two States?     Then is the NSA collecting personal data, when it claims is does not look at it?NSA Surveillance.      A walk through the only operational B-29 airplane in the world.     The 9/11 Commission at its fifth and tenth anniversary: 9/11 Commission.        A 21st Century Marshall Plan?: Can a modern Marshall Plan  foster wealth and combat enemies?      The Keep: How the Iraq war was turned around by U.S. troops leaving their sanctuaries.     Gulf of Tonkin Incident: The PT boat attacks in the Gulf of Tonkin. An eye witness account.     Religious Wars?: Is America's war on terrorism a religious war?       The Amphibious Navy and a reunion of the Gator Navy.    A bomb shelter: a tour through the Cold War Greenbrier Bunker.     What I suspect will be a controversial posting:Iran and the Bomb, as well as:Iran and Nuclear Weapons II.    A third installment: The agreement and how it has been misrepresented.  Putin and Russia once again push the Soviet envelope westward: Safe Harbor in Crimea.     Where are the boundaries for nations' "Monroe Doctrines?": Protecting Liberty.     How many Security Blankets do we need to keep us safe before our privacy is smothered? ~ It was just a few years ago that Russia's Vladimir Putin was extolling the virtues of the West.  Now, it seems aspects of the Cold War have been revived. What Happened?
13. The Warm War is part of the War Zones  series and is about post Cold War military readiness. ~ Cop on the world's block: America Polices the World while China takes away USA's business. ~ U.S. and China's encirclements: Muscling-in on the action. ~ Obama reposititions America's war machines with the Pacific Pivot. ~ An examination of Obama's Pacific Pivot in relation to China. ~ Should America allies be doing more? Click on Passing the Buck for an analysis of this issue. ~ The Middle East debacle, with Shia vs Sunni vs Everyone Else.   A modest suggestion to address the  chaos in the Middle East:  The Middle East Treaty Organization (METO).
14. Immigration and Emigration
Here Comes the Neighborhood! A walk through a changing neighborhood in Northern Virginia.        Skin Color Sightings. The near absence of minorities in Northern Idaho     Balancing the Immigration See-Saw. Will curtailed immigration affect America's consumers?
15. Foreigners' Affairs
Solzhenitsyn and America: How Solzhenitsyn viewed the west and America. ~ Gucci and the Gulag: Contrasting the life styles of Soviet Gulag and Palm Springs residents. ~ The pope sends out Papal Doves from Rome to the Ukraine. ~ It depends on who is leaving whom that determines who gets upset: Seceding. ~ More than one Great Satan? The Great Satans. ~ Free speech issues in Pakistan and relationships with the United States: Gagged?
16. Politics in America
The Obama and Romney arguments, see Presidential Debates. January 20, 2005: The second Bush Inauguration, and a new era for security measures in D.C. January 20, 2009: The Obama Inauguration, a black man moves into the White House…rent free.      Several National Press Club (NPC) reports are provided for historical interest:      Dick Cheney: Then Vice President Dick Cheney at the NPC. Topic: Principally Iraq.     Ashley Judd: Actress Ashley Add at the NPC. Topic: AIDS & impoverished third-world women.      Newt Gingrich: Newt Gingrich at the NPC. Topic: Health care; secondarily, immigration.      Bob Dole: Bob Dole at the NPC: The presidency; his take on politics.      Robert Bork: Robert Bork at the NPC: Politics and the Supreme Court; his failed nomination.     Tea Party Politics (I): How can the Tea Party combat big government and big business?      Senator Arlen Specter: The National Press Club several years ago features Arlen Specter. A fine journalist receives as award: Charlie Rose and the National Press Club.  
17. Sports and Games 
The U.S. Open is a report on the U.S Tennis Open held at the National Tennis Center.         The French Open is a report on the French Open held at the Roland Garros Center.     The Hole in One chronicles the saga of making a hole in one.      The Day Rocky Marciano took a Dive: How a computer game whiz and Rocky Marciano were KO'ed.     Baseball in Nation's Capital: Report on a Washington Nationals game.     Football Fantasies: Old men play touch football against young men.     Confessions of a Golf Luddite: Golf hacker watches a professional golfer ply his trade.     It Comes with Headlights!: Shopping for a golf cart, which can cost as much as a car.     Final Four and Final Draw: NCAA basketball tourney…interspersed with commercials.     Urlacher Country: A visit to the town where Chicago Bear Brian Urlacher grew up.     River Rafting: A river raft trip down the Flathead River in Glacier Park.       New Orleans Saints and bounty hunting: Contact Sports.      A posting about Olympic sized advertisements.     An athlete's hall of fame. A story of an extraordinary athlete being so-recognized: Hall of Fame.     Rodeo days and steer wrestling: Esta Muerto!     High school basketball championship.  New Mexico Hoosiers, similar in theme to the movie Hossiers. ~ Competition is not allowed to get out of hand, even if when it represses the idea of competition and fair play: Competition in the Slovenly Lane.
18. Sing Me a Song Title and 19. Slim's  Wisdoms
Click on Song Titles  for a look at our stars, Slim and Slimette. ~ Find out about Slim's thoughts by clicking Slims Wisdoms.
20. Confessions of a Modern Art Luddite
 What is Modern Art, especially abstract expressionism? The essay takes the reader on tours of famous museums and of works of famed artists.
21. Computers and Networks
The  "borrowing" of others' Internet content, repackaging it, and selling it is a big issue and getting bigger. Here is a article on the subject: Trivial Pursuits. ~   Internet Issues is the complete ten-series articles published in the Coeur d' Alene Press in the second half of 2014. They address the controversial topic of Net neutrality. ~Twitter, its origins, its impact, its pros and cons.  ~ As part of a series on the Internet, here are some thoughts about his comments and those from the industry: Obama_Net Neutrality_& Cable TV. Software programming recounts strange events Uyless encountered as a programmer: Softistry. ~ Internet content piracy and SOPA's defects are discussed in Internet Piracy (I). ~ Seemingly strange but logical: Storing our emails on DNA. ~ Overview of problems with Obamacare Website. ~ Our computers going dead on us before we do: Another Digital Reincarnation. ~ The issue of charging for Internet usage is covered in  Net Neutrality I and II. ~ Robbing  a customer's bandwidth:  Throttling User Traffic to Send Advertisements.
22. Food Effects and Drug Defects
Food follies! How to deal with increasing risks of eating: Uncle Sam fixes our Food. Next: Kraft avocado dip has almost no avocado in it. You will be amazed at to what it does contain. This one is about spinach and E. coli. The  fourth report is also about E.coli scares, but the culprit is Taco Bell Blues. The next report is about the scares of a  wide variety of food dancing to the  Salmonella Serenade.  Next, there are Watermelon fights and feasts in Watermelon Man!  Here is another Food Follies report on What America Eats…mostly fried food.  Side effects? How are we to know the consequences of ingesting our modern medicines? In contrast, the Eating and Drinking series takes a lighter look at food and drink.   A food and drink festival. A visit to San Francisco's SF Chefs 2011 feast.      New York deli in California. A New York style deli The Manhattan Grill is located in Palm Springs.      Orchards in my back yard. a dream come true: Fruits of No Labor.     Comparing a Michelin 3-Star restaurant to one not even rated: Eating High on the Hog. I am placing this piece here, perhaps to integrate it into a series. It's some pieces from my recent book (for now, a manuscript): Excerpts from 2084 (Part I)
23. Traveling America
Traveling America (I) visits the Petersburg Civil War battlefield; the home of author Thomas Wolfe;     the Biltmore Estate; home of Commanche Chief Quanah Parker;      and Quarterhorsecountry in the Texas Panhandle.  Traveling America (II) takes a trip from New Mexico to Idaho and stops off at the Chama area of      Georgia Okeeffe country; the Switzerland-like San Juan forest in Colorado. It examines the      water problems in Nevada; goats at a Nevada hotel; and the pleasure (?) of being snow-bound     next to a Dennys restaurant. Traveling America (III) travels to a Pennsylvania ski mountain; into New Hampshire for a tour     of Manchester; as well as a report on the history of French Canadian immigration in that area. Traveling America (IV) explores Morgantown, West Virgina on the way to the      National Highway Museum, the Zane Grey Museum, and the childhood home of Mark Twain. Traveling America (V) recounts travels from North Oregon down to Southern California, with      reports on the Columbia River; Mt. Hood; Bend Oregon; Weed California; Old Town Sacramento;     and thoughts about globlal warming and Palm Springs.  Traveling America (VI) visits with Elivs fans; a Hollywood diner;     Catalina Island; Disneyland; and Hawaii.  Traveling America (VII) explores Butte Montana and the Berkeley Pit; Little Bighorn; and     Mount Rushmore. Traveling America (VIII) recounts travels from Montana to New Mexico and visits to a     working ranch; several cattle trails; Yellowstone and Grand Teton National Parks;     the San Juan National Forest; and the Albuquerque Balloon Fiesta. Traveling America (IX) travels through Northern Arizona and central Nevada to pay calls on     the Painted Desert; the Petrified Forest; Volcano National Monument;      Wupatki National Monument; the Hoover Dam; and Nightlife in Las Vegas. Traveling America (X) visits the Glacier National Park in northwest Montana.    Traveling America (XI) recounts a drive over the Pacific Coast Highways, beginning at      North Oregon and stopping at San Diego. Calls are paid on the Redwood forests, the      Hearst Castle, Madonna Inn, Malibu Beach, del Coronado Hotel, and many other places.  Traveling America (XII) reports on the Greenbrier Resort, an Amtrak train ride, the Fredericksburg      Civil War site, and a trip to North Carolina.  Traveling America (XIII) stunning terrains of Joshua Tree and Mojave Parks, our national treasures. ~ Traveling America (XIV) returns to Glacier Park and the stunning Going to the Sun road.
24. Foreign Places
In the this series, we leave America and pay calls to other lands.  The Danube River cruise affords a look at six countries: The first report offers observations about different cultures, Getting Started. The second report explores parts of Bucharest Romania.The third report is on Bulgaria. The fourth is bit of a diversion, with the focus on the Danube itself:Iron Gate. Avisit to Belgrade Serbia. And a second report:Belgrade Serbia II. Next isCroatia, followed by The Hungarian Plains, then a trip to Budapest, followed by Prague. Finally, a short Wrap Up.  The Mediterranean contains reports on a ship cruise. Introduced with Getting Started; followed by reports on: Istanbul, Rhodes,  Crete,  Malta,  Sicily,  Sardinia, Minorca,  Corsica, and  Civitavecchia,  Paris, France with visits to Paris museums, Montmarte, and French culture. Barge tour to see  Burgundy country on a canal barge in France. Mazatlan to learn a bit about Mazatlan Mexico.   The Baltic Seacontains reports on a ship cruise. Introduced with: To the Baltic;     followed by reports on: Oslo, Copenhagen, Berlin, Tallinn, Moscow,     St. Petersburg, Helsinki, and Stockholm.
I have put together a series of short essays taken from the prefaces of some of my books: Creatures and Computers. They compare the communications skills of animals to communications networks. This piece also includes a discussion about hand-made knives. It's a bit unusual, and I hope you enjoy the read.
Other Links: Here are some links that might be of interest: To view the cover and comments on The Nearly Perfect Storm: An American Financial and Social Failure, click Storm. For The Light Side of Little Texas, click Light Side. For A Swimmer's Odyssey: From the Plains to the Pacific, click Swimmer.
I hope you enjoy some video clips about my recent books. They are on YouTube.  One is about my swimmer story, A Swimmer's Odyssey. Click on: http://youtu.be/NdCUKGoFa1g . Another is a trailer on The Light Side of Little Texas: http://www.youtube.com/watch?v=moTlKxrCR3w&list=FLTp1Q5GQ4Gq4jE5H-3EXX2A. Also, click on  http://youtu.be/1VKu5y-DqOs to see a clip on The Nearly Perfect Storm.
I also have a Facebook site up-and-running. Go to Facebook, and key-in Uyless Black Books. There you will find many quotes from my works and readers' comments.
Finally, for a more detailed look at the general information contained in Facebook, go to my website at UylessBlack.com. It also has ordering information for the books.
Thank you for your support of this blog and my Web sites. Thanks for supporting my writing efforts.   Uyless